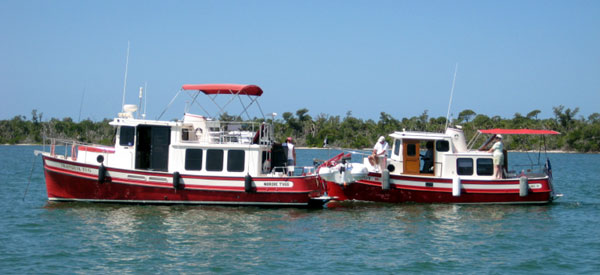 2008 SENTOA Rendezvous Follow-On Cruise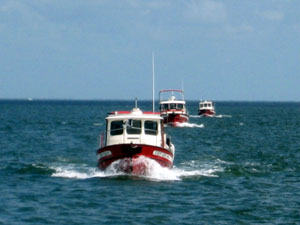 For the second year, the SENTOA Rendezvous committee has included a follow-on cruise. In our opinion, this is where you really get to know your fellow tuggers.
After the final goodbyes following the rendezvous, five Nordic Tugs left Fishermen's Village, Punta Gorda, Florida about 10:00 AM on Friday, April 25. Minnie and George Osteyee on Muggins led the way to Burnt Store Marina, followed by Thomas Bush and Rosita on The Thomas B, Jack and Rick Nostrand aboard Tranquil Tug, Bob and Emily Wiggins on Tugaloo, and Chip and Louise Worster and their Jack Russell "Tugger" on Chip Ahoy.
Before lunch, Minnie gave tours to those who wanted to see the development around the marina. Then it was time to just cool off, have a drink, relax and get better acquainted over great food.
Next we were off to Cayo Costa Island State Park where we planned to lay anchor for the night. With nine miles of beautiful beaches and acres of pine forests, oak-palm hammocks, and mangrove swamps, this barrier island park is a Gulf Coast paradise. The park is accessible only by private boat or ferry. Visitors may see manatees and pods of dolphins in the waters around the park, as well as a spectacular assortment of birds. On the island, visitors can swim or snorkel in the surf, enjoy the sun, and picnic in the shade. Shelling is especially good during the winter months. Nature trails provide opportunities for hiking and off-road bicycling. As soon as we anchored, the plan was to board Tugaloo and head north across Boca Grande Pass to tour a little of Historic Boca Grande on the south end of Gasparilla Island. At this time, The Thomas B decided they would just stay at anchor and grill some steaks, as they were departing for the Keys early the next morning. The rest of us were picked up and off we went. The girls took a walk and toured the old beautiful hotel and saw where the railroad had been that we had heard about in one of the seminars during the rendezvous. The guys on the other hand, rented a golf cart and headed down to the light house and found a local bar. Needless to say, they did not show up at the appointed time to meet for dinner. However, they weren't too late, and another delicious meal was had overlooking the activities at the marina.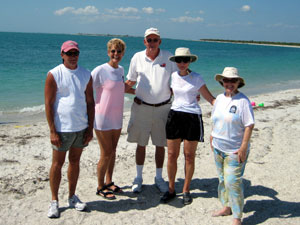 Saturday we were up early and said goodbye to The Thomas B and then several went off to the beach. It is nearly a mile across the island to reach the Gulf, but certainly worth it. We stopped to see the small cemetery of some of the early pioneers and Minnie was great at filling in the local history for us.
When we got back from the beach everyone jumped on Chip Ahoy and off we went to Cabbage Key for lunch for their famous cheese burgers in Paradise. We had a panoramic view of Pine Island Sound while eating atop a thirty-eight foot Indian shell mound. There are no cars here, not even a paved road. The island is accessible only by boat, helicopter or seaplane. Cabbage Key is reminiscent of the nearly extinct old Florida. It is famous for its Dollar Bill Bar. Back from lunch (it was now nearly evening) we all fixed snacks and munchies and dinghied over to Muggins for Happy Hour and to watch the sun set over the island. George showed us a hot new game called Left, Right, Center that made an enjoyable evening for all.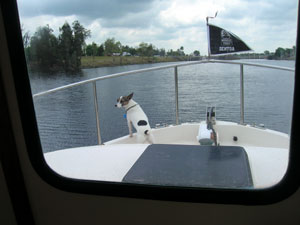 On Sunday, the next destination was the Fishery Restaurant just north of Gasparilla Island for lunch. We needed to get there before the crowds as there is limited docking space. It was now Muggins turn to take their boat and George let Bob take the wheel. Bob said it was the highlight of the whole rendezvous for him to pilot the 42 Nordic Tug. The luncheon turned out to be another great meal and conversation shared by all.
Back from getting our tummies full, we decided we needed to walk across Cayo Costa Island again to the Gulf and this time to swim! We saw a huge turtle just off shore and delighted ourselves with walking, swimming and shelling the entire afternoon.
Sadly, the next morning it was time for Chip Ahoy and Tranquil Tug to head back across the Okeechobee Waterway, and hope there would be enough water to get across.
A special thanks to Minnie for not only putting on a first class rendezvous, but also being our special tour guide for our follow on cruise.