Cruise to Key West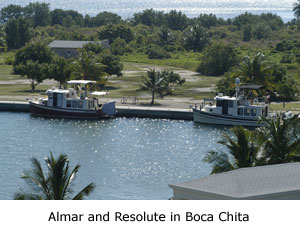 Like most great stories this one started on the spur of the moment. It was July 6, 2003 and we were driving to New York on I 95. We had just passed the town of Dillon, SC, I turned to my wife Marlene and said, "we have not been to Key West in a while". Marlene put down her New York Times magazine and with a dreamy look in her eyes commented: "we always have such a good time there, we should invite Bill and Donna Hjerpe and we can cruise the Florida Keys together on our tugs". Since I was driving, I told Marlene lets call them. Like good "snowbirds", Bill and Donna were in their lake house in Minnesota and were delighted to hear about our invitation. After a few minutes of logistical planning we agreed to meet Bill and Donna on October 20, 2003 in Juno Beach where we would begin the cruise. This cruise was something that Bill and Donna wanted to do because as Bill put it, "They had always wanted to circumnavigate Florida".
Over the next few weeks, I made a loose schedule and bounced some ideas of Bill, Donna and Marlene. We all agreed that we wanted to go slow, have some great meals, and enjoy ourselves. The game plan that evolved from our discussions had Bill and Donna bringing Resolute , their Nordic Tug 32 across the Okeechobee Lake, meeting us in Juno Beach, cruising down the ICW to Miami and then cruising through Biscayne Bay to Key Largo where we would continue South through Florida Bay until reaching Marathon. In Marathon, we would go ocean side to Key West following the Hawk Channel. After a few days of fun in Key West, Bill and Donna would leave to go back to Sanibel Island via the Gulf of Mexico and Marlene and I would go back and meet some friends of ours that were cruising South from the Chesapeake. Bill and Donna needed to be back in Sanibel Island by November 5 so that they could fly to Chicago where their daughter Elizabeth lived. I should point out that Elizabeth was expecting her first child.
On October 20, we picked up Bill and Donna at the Frenchman's Marina which is located in Palm Beach Gardens. We drove around Juno Beach, Singer Island and then headed to Palm Beach were we all got mesmerized by the opulence of the homes, the cars, the hotels, etc. We decided to join the big money and went into the Breakers Hotel for drinks and hors d'oeuvres. While there we had the opportunity to watch a portion of a Croquet tournament. That night at dinner we agreed to depart for our Florida Keys cruise early in the morning.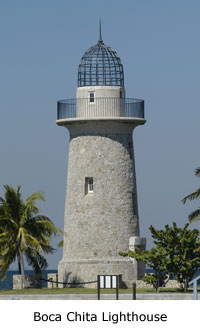 We met Donna and Bill in the ICW and started our trip South. The weather was great: sunny with the wind 10-15 knots. Every thing was going great until we got to the Flagler Bridge and I realized that Resolute had a satellite TV dome seating on top of a mast. I called Bill on the radio and I asked him how much clearance he needed. Bill response was he needed 14 feet and the Flagler bridgeboards showed 14 feet at that time. We discussed waiting the _ hour for the next opening or we could try to inch our way in and see if Resolute could make it. I proceeded first under the bridge and then Resolute followed us at dead slow speed. We all had our mouths open as Resolute inched her way in and cleared the span by a handful of inches. It was a relief. Especially since we knew we had a lot of low bridges ahead of us. The ICW between Palm Beach and Fort Lauderdale is best described as a very narrow canal over which multiple bridges connect both the barrier islands and the mainland shores. On both shores you can see incredibly beautiful homes and thousands of condominiums which you can gaze at as you cruise from no wake zone to no wake zone. If you have never cruised this part of the ICW, I recommend you do it once and from then on, if the weather is nice, go out to the ocean using the Lake Worth inlet, which is an all weather inlet, and cruise down to the Port Everglade inlet, which is another all weather inlet. The other inlets between Palm Beach and Fort Lauderdale require local knowledge. We filled the fuel tanks and got a pump out in Deerfield Beach and proceeded to the Hall of Fame Marina in Fort Lauderdale. I should comment that we tried getting into the Bahia Mar Marina but unfortunately they were under going preparations for hosting the Fort Lauderdale boat show. After we tied up, Bill and Donna ran some last minute errands to the ATM machine, the grocery store, etc and then we got together for what it became the trademark of this cruise…cocktails and a great dinner.
The next morning we left the Hall of Fame Marina toward Boca Chita in Biscayne Bay. Our initial plan had us stopping in the Dinner Key Marina in Coconut Grove but we decided to continue South and enjoy more days in the keys. We followed the ICW through the rest of Fort Lauderdale across Port Everglades where the Coast Guard and the Florida Marine Patrol made sure we were keeping a good distance away from the cruise ships and other vessels loading/unloading cargo in the port. Once we cleared the Haulover inlet, the color of the water changed dramatically. Gone was the dark color of the ICW and instead we were treated to that aquamarine color that those of us that have cruised the Bahamas know it signifies shallow sandy waters. We continued our cruise South passing under the Julia Tuttle Bridge, the Venetian Causeway and the Rickenbacher Causeway. We had a great view of downtown Miami, the Freedom Tower and all those big cruise ships waiting to take you to the Bahamas and the Caribbean. We crossed that imaginary line by the Miami River that signifies the end of the ICW. This part of the cruise through Biscayne Bay always brings back great memories since I spent a part of my youth in Miami. I brought to Bill and Donna's attention a few landmarks as we cruised south, among them President Nixon's old home in Key Biscayne, the entrance to No Name Harbor and Biscayne Channel. The Biscayne Channel is something worth seeing. It consists of a well-marked channel taking you to deeper water (I used to take this channel always on my way to the Bahamas) that is flanked on both sides by homes that were built on stilts. Today, I don't believe anyone is living on the homes full time, but there is always a lot of activities on the weekends. Once we reached marker "C" we altered course toward a midpoint between Green marker "1" and red marker "2" which would allow us to look for the Boca Chita entrance markers (see photos of the lighthouse). Boca Chita is a lovely spot. I always think of it as a little lagoon in a Pacific Ocean island. After hurricane Andrew the federal government spent some serious money in upgrading the facilities, a sea wall was built so that you can tie up to it, bathrooms were modernized, and a fee of $15 a night was implemented. The $15 collection is done using an ATM type machine, which gets its power from a bank of solar panels. I should point out that the park ranger comes by every evening making sure you have paid the docking fee. We spent 2 glorious days in Boca Chita, relaxing, cooking some great meals (see photos) and swimming in the shallow waters. For those of you that know Bill, you know that he is obsessive about keeping Resolute in pristine condition, unfortunately Boca Chita has no fresh water. Some how, there he was, polishing away! We offered Bill the melt water from our cooler so he wouldn't have a withdrawal attack. After two days of relaxing, watching some great sunsets and having some outstanding meals we left Boca Chita headed for Plantation Yacht Harbor Marina.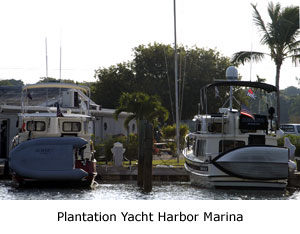 As we crossed Featherbed Bank channel, I called Resolute on the radio to remind Bill and Donna to keep a look-out for lobster traps, many cruises have been ruined in the Florida Keys because a lobster trap got wrapped around the propeller shaft and have done some damage to the propeller. We cruised through Card Sound, Little Card Sound and under the Barnes Point Bridge, which connects the mainland with Key Largo. Once we passed the bridge we headed into Jewfish Creek, which is a pass between mangrove keys that usually afford a good view of the local fauna. We missed the scheduled opening of the Jewfish Creek Bridge so we had a lot of fun maneuvering in the narrow creek. After thanking the bridge tender for the opening, we proceeded to cross the Blackwater Sound. The controlling depth to cruise the Florida Keys on the bay side is 5 feet, I advice you not try it if your draft is 5 feet or larger since you will definitely run aground. We crossed Blackwater Sound and went into Dusenbury Creek, which is also a pass between mangrove keys. We had planned to anchored in Tarpon Basin which is at the end of the Dusenbury Creek and dinghy ashore and enjoy Key Largo but we decided to continue to Plantation Yacht Harbor Marina and rent a car there and explore Key Largo by car. After cruising through Buttonwood Sound, Baker Cut, Ramshorn Cut and Cowpens Cut we headed into Plantation Harbor Marina through the Cowpens Anchorage. I should mention that the name Cowpens Anchorage come from the earlier settlers, which used the manatees for food and kept them in pens here until they were needed. Needless to say, after we all tied up, Bill was outside scrubbing away!
Plantation Yacht Harbor Marina is located in Plantation Key, but the town of Islamorada owns it. One great feature of the marina is that is next door to the Snake Creek cut which allows you to go from the bay side to the ocean side. The water is kind of shallow on the ocean side so you should exercise a lot of caution. The marina has a significant number of live aboard who are very friendly. That evening after we all had our hot showers and met for cocktails aboard Resolute, we called the local Cab Company and went to dinner to the Marker 88 restaurant, which is located by the water and the food although a little pricey is excellent.
The next morning the sun was out but it was windy 15-20 knots. We called Enterprise and rented a car. We were picked up timely and driven to their office to do the paper work. We drove around Key Largo checking out homes by the water and looking at the growth that has taken place in the key. We headed back to Islamorada and had lunch in the Cheeca Lodge; we dropped by the Holiday Isle resort to check the facilities and went in the WorldWide Sportsman to do a little shopping. The World Wide Sportsman is an interesting place to go in, it has an incredible selection of fly fishing equipment plus all kind of clothing as well as some marine equipment, be prepared it is not inexpensive. We went into Publix for some re-provisioning and went back to the boat for a nap. That night we had a great dinner aboard ALMAR. We decided to leave the next morning for Marathon.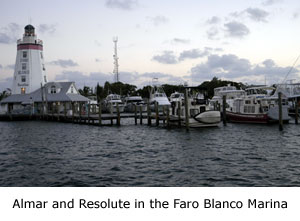 We got the boats ready and got a free pump out from the dock master, we also left the keys of the rental car with the marina office. The weather was a little cloudy with wind 10-15 knots but it was forecast to gust 20-25 knots. We left Plantation Yacht Harbor marina toward Marathon. This is the shallowest part of this cruise, the water gets very skinny very fast and on top of that there are thousands of lobster pots that have been laid right on the channel. I felt that I was going through a minefield sometimes. We passed Bowlegs Cut and followed the Steamboat Channel. We had a good look of the Channel Five Bridge and a favorite anchoring spot of mine in Old Dan Bank. For those of you planning to attend the SENTOA 2006 rendezvous, if you are coming South using the bayside you will need to go ocean side using the Channel Five bridge into the Hawk Channel for the nine mile run to Duck Key. We passed Bamboo Key and decided to call the Faro Blanco Marina for a recommendation for a car rental company. The marina folks gave us the name and telephone numbers of 2 rental car companies operating out of the Marathon airport but they told us that it was Fantasy Fest time in Key West and we may have difficulties getting a car. We called the first company and they told us they did not have a car available. The second company, Budget rental car had a car available and was willing to pick us up. At marker G 17 we altered course in an easterly direction looking for the Faro Blanco distinctive lighthouse which indicates the entrance to the marina. The winds at this point were beginning to pick up and we were able to dock before some very strong gusts came by. I am sorry to report that the Faro Blanco marina is in desperate need of some serious upgrading. We checked in and every one got ready to experience Fantasy Fest.
Budget picked us up and after doing the paper work, drove directly to Key West. The reason we drove right away was because everyone told us that if we were not on the road before 3 PM we were going to hit big time traffic jams and we were not going to find a parking spot. We did not hit any major traffic jams in the Overseas Highway but we had a hard time finding a parking spot. We finally paid $25 for a spot about 7-8 blocks away from Duval Street. For those of you not familiar with Fantasy Fest, it is an annual event held in Key West that is one part carnival and one part street party for adults. I would not recommend it as a family event. Fantasy Fest lasts for more than a week and people come to Key West from all over the world to join one big party. During Fantasy Fest all the boat slips and moorings are usually booked solid. We walked around Key West and were amused by all the people in customes. I have to admit I was very impressed by the creativity of some of the outfits and especially by some of the people sporting some great body painting and nothing else. The Key West streets were crowed and boisterous. We finally took refuge on the bar on the roof of the La Concha hotel where we were able to have a couple of drinks in peace. The top of La Concha hotel is a great place to hang out, I am not sure but I think it is the tallest building in Key West (not very tall). It is also located in the center of Duval Street activities. We had dinner in the A & B Lobster House. After dinner we walked to the Galleon Marina and verified they were holding a reservation for us for 2 days later.
The next day we drove around Marathon, had a couple drinks in the Tiki bar by the Boot Key Harbor anchorage, drove over the Seven Mile Bridge to have lunch, did a little provisioning and returned the rental car. That night we went to bed early since we wanted to get going before the winds picked up.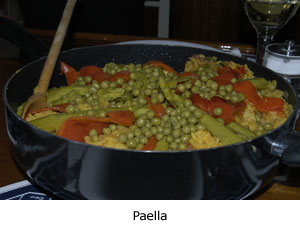 We left Faro Blanco around 7:30 am. The day appeared a little cloudy with winds 10-15 knots and forecast to gust to 20-25. I had originally intended to cross over to the ocean side using the Moser Channel but I got confused following my new charts (which were not up to date with all the new markers and the renumbering of some of the markers). We finally decided to cross to the ocean side using the Bahia Honda Channel and then follow the Hawk Channel to Key West. Hawk Channel is the preferred route for boats that draw more than 5 feet. Although Hawk Channel is on the Atlantic Ocean side, it is relatively protected by a number of keys on its West side and by natural reefs on the East side. Hawk Channel has a good number of aids to navigation making the cruise to Key West usually a painless and safe experience…. just make sure you check the weather before you depart. Once we were in the Hawk Channel we passed a number of keys on our starboard side: Big Pine Key, Cudjoe Key, Sugarloaf Key, Saddlebunch Key, Boca Chita Key and finally Key West. We made a turn into the Key West ship channel at marker R 12 and followed the well marked channel into the Key West Bight and our destination the Galleon Marina. The Galleon Marina is a first class marina located within walking distance of all the main attractions of Key West. The staff was very helpful and we had the use of the condo/time share facilities adjacent to the marina (pool, showers, laundry, tiki bar, veranda, etc.).
Our original plan was to spend 3 days in Key West and then Bill and Donna were going to follow the West Coast of Florida on their way home and Marlene and I were going back to meet some friends. Well, the weather did not cooperate and on the day of departure we had to change our plans because a serious cold front was passing by and we had the lingering remnants of a tropical storm and therefore we delayed our departure by another 2 days. Overall if you are going to be stuck some place, there is no better place than Key West. We had a great time, watching the sunsets in Mallory Square surrounded by tourists, circus performers, newlyweds, cruise ships passengers and of course some locals. We visited some very interesting places such as Hemingway's house, President Truman's Little White House, the Southern Most Point in the US and Fisher's shipwreck Museum. We had the opportunity to have drinks at the Sloppy Joe's Bar and some great restaurants like Louie's Backyard, The Commodore Steak House, the White Tarpon, the Half Shell Raw bar and others, we also ate on a wonderfully inexpensive little Cuban restaurant where the food was superb.
We all had such great times that I know Almar and Resolute will be back in Key West in the near future. I should point out that although Bill and Donna got beat up a little in the Gulf, they made it on time for their trip to Chicago to be with their daughter. As Marlene says, "this was a great cruise, great friends, great laughs and some crazy story about olives"…………